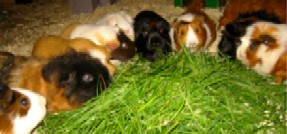 FINANCIAL ADOPTION
Amongst the many guinea pigs that are brought to Stichting Cavia there are also old animals and animals with a weak health. In principle these guinea pigs can still have a good life despite their shortcomings. However, due to the time and costs involved in their caretaking, they are not suitable for the average pet owner. These guinea pigs stay in the cavy-village for the rest of their lives.
For the caretaking of these guinea pigs, Stichting Cavia needs extra money. Therefore, you can adopt one of these animals financially for the amount of 20 euro per year (you can deposit this amount on account 7741751 or bank account 50.16.28.460 of Stichting Cavia in Bakkeveen). You can choose the guinea pig on this page (in Dutch). Of the guinea pig(s) that you decide to adopt financially, you will receive an adoption certificate. If you extend the adoption with another year, you will receive a card with a short description of how the guinea pig is doing. Additionally, you will receive our newsmagazine "De Caviakrant" (Guinea Pig Newspaper, in Dutch, only delivered in the Netherlands) twice a year. Thanks to your help, the guinea pig can enjoy the rest of his or her life in the cavy-village.
If you are interested to support us by financially adopting one of the guinea pigs in Bakkeveen, you can send an e-mail to:informatie@stichtingcavia.com .