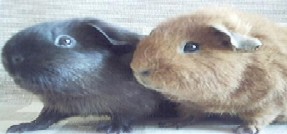 Please help us
HELP WANTED
The large number of guinea pigs that are brought to Stichting Cavia and find a new owner each year shows that our work is still very needed. Additionally, our foundation serves as a national information centre for guinea pig caretaking and related issues. This work can only be done with your help. You can help in several ways:
As financial contributor. Support Stichting Cavia by donating at least 10 euro on account 7741751 or bank account 50.16.28.460 of Stichting Cavia in Bakkeveen. Don't forget to mention your name and address when doing so. In return, you become a financial contributor for one year and will receive our newsmagazine "De Caviakrant" twice a year. This magazine contains hot news items and information about guinea pigs and our foundation.
As sponsor. Would you rather support a specific project of Stichting Cavia? That's possible as well! At the moment we are collecting money to buy a new building for our shelter. All donations for this project are highly appreciated and can be deposited on account 7741751 or bank account 50.16.28.460 of Stichting Cavia in Bakkeveen. Please mention the name of this project, "Roof for Guinea Pigs", when you make the transfer.
Another useful project, called "neuter a guinea pig", can also be supported in the same way. This project is started to help male guinea pigs, who cannot live with other males, but who can live with females. Our own vet is prepared to castrate each guinea pigs for 22 euro.
As volunteer in Cavy-village. Are you living near Bakkeveen? We are eagerly looking for people who can help to clean the guinea pig accomodations and feed the guinea pigs on Saturday. For more information you can call us: 0900 – 2040 720 (45 cpm)
As volunteer with an inhouse shelter: Do you want to provide a (temporary) shelter for guinea pigs that need help? Or do you want to take care of guinea pigs of which the owner is on holiday? We are looking for volunteers throughout the entire country. For more information you can send an e-mail to:informatie@stichtingcavia.com .
For an internship: Stichting Cavia is officially credited as institute for educational internships. If you would you like to do an internship with us, call: 0516 – 54 15 71 (wednesday and saturday).
Ideas to help Stichting Cavia are always welcome! Please send an email to:informatie@stichtingcavia.com .